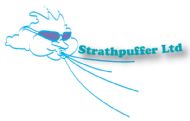 The Strathpuffer 2010 24 hour mountain bike enduro race is branded as the worlds toughest. Taking place in the depths of Scotlands winter it brings extreme weather conditions and lots and lots of night riding. The event is based in the forested hills above Contin approx 25 miles north of Inverness and this year with the long spell of sub zero temperatures and heavy snow fall running up to the race there was a question as to would it take place. The organisers pulled out the stops in the week before the event however digging out the 10km loop of fireroads and singletracks and the internet forums were buzzing with discussions on tyre choice…..
Originally entering as a quad  (4 riders taking in turns for the 24 hours) Alan and myself eventually
ended up as a pair. This saw us piling 4 bikes, camping equipment, toolboxes and bags and bags of clothes and food into a focus estate on Friday lunchtime in Shap before driving the 300 miles up to the event. After a quick stop for Haggis and Chips in Aviemore we arrived to a very frosty, snowy campsite (well side of a forest road really) and made our base about 200 metres from the start / changover.
The first thing we learnt about the Puffer was the infastructure some of the teams bring. We took a while to get used to the constant hummmmmm of many generators powering the old caravans, gas blower heated easyups, covered service areas, braziers and general scottish banter about tyre choice, mudguards 29ers and singlespeeds (especially at 3 in the morning).
Saturday morning brought a final bike fettle, porridge spilt on the floor and decisions on what to wear before all too quickly it was 10am and time for the Le Mans style run from the start to the bikes (only at Le Mans they dont tend to have ice on the road).
Riding first I intended to do two laps so Alan could support SportIdent's Martin Stone on the timing system as the first riders came through. I deliberatley held back on the run but soon found myself slicing through the field on the first fire road climb, even though I was keeping my heart rate in check . Then on to the first of the single tracks where immediatley we were off and running with the bikes in the sugary slush, it must have been carnage further back in the feild.
I nearly came off three times on that first lap, hitting unexpected ice under the snow but I managed
to recover it somehow, but others were not so lucky (including the presenter of the Scottish Adventure show, who ended up in hospital). Down into the finish for the first time and then back up the fireroad after punching in to record the lap whilst eating an Eat Natural bar was something to do again and again and again, the laps taking about 1 hour.
The second lap was much quicker, with less traffic, the course starting to cut up and the worst of the snow and ice starting to clear off the racing line.
Alans lap-times were faster again for his two, and by the time I completed my 4th the course was completely ridable for the brave, though I chose to run one rocky section throughout as it was quicker overall than messing about trying to ride it on a rigid bike. 
The course has some very technical sections, and with the added complications of snow and ice it was very challenging. Towards the end of my second stint (doing 3 laps ) I started to get tired, and on top of this my rear brake failed completly. As darkness fell I struggled down the icy, treachourous descents into the finish with copious amounts of scootering and handed over to Alan for his 3 lap stint. I was not in a great state. Looking back it was lack of food and proper rest. Alan did not fare any better and our brake pad situation became critical, even though we had 6 pairs with us. Alan ended up using his spare bike to complete his 5th lap whilst I ate and bike mended and unfortunatley punctured as well. I headed out onto another 3 lap stint whilst Alan retreated to the tent to warm up. I backed off a bit up the climbs and felt much better, the proper food inside me and the drying conditions making the laps quite fun. At 10 o'clock there was a huge bang which nearly made me fall off as a firework signalled the half way point. There are several marshalling points around the course and the music blaring, braziers blazing and shouts of  encouragment were most welcome and thanks to all those manning them, particularly the last one before the short steep climb that never beat me beacuse of the shouts and whoops everytime I came at it.
Unfortunatley, Alan at this point was at a low point both in food and bike maintenance and we decided that, although we were running in a
battle for 3rd place, a sleep was sensible and we accepted that we could not keep up that sort of pace and look after ourselves. Though sleep was interrupted and uncomfortable, it was the right decision to make.
Alan started a lap at 5.30am and then I went out for two glorious laps and saw the dawn rise over a fantastic snowy landscape. At 8.30am I'd had enough and let Alan do the last two laps, which he really enjoyed with full daylight and the course in its best condition, feeling better after a tasty quiche for breakfast !
We ended up 11th out of about 40 teams which we were quite pleased with considering of our 18 laps only 5 were done in the second 12 hours. In fact my 10 laps would have placed me 18th on Solo!
The learning curve with this event is enourmous, and really it is obvious now that to compete at the sort of level we were trying to, you need a support team to keep your bike working and to feed you to enable you to just concentrate on recovery. 
Three memories stand out for me: riding fantastically difficult icy conditions with practically no brakes (character building!), the clear frosty, star-filled skies of 11pm as I really enjoyed a couple of laps, and, finally, changing brake pads with a torch between my knees and a cheese roll balanced on the seat in the dark at -2 centigrade.
Oh and I rode the whole thing on my Hutchinson Pythons, phaaa who needs ice tyres…..
Results available at 
http://lappedenduro.sportident.co.uk/home/event/publicresults.html?&eventid=906b739d-b5c2-4b38-a255-3373ba5f2567
Lots of Photos available below by Jon Brooke who braved the cold :
www.rightplacerighttime.co.uk